Dear Community,
In November, Andrew from Whitebit was so kind to answer our community's questions about Whitebit as part of an AMA that was held in the IDNI Telegram channel. Here you find a copy of said AMA, so that it can be easily accessed instead of having to scroll up endlessly within our Telegram group:
Andrew (Whitebit):
So, let me introduce myself again. My name's Andrew and I'm Head of Project Relations at WhiteBIT exchange.
Thanks to the AGRS team, we were made aware of certain concerns that have arisen from your community side, and I'll be happy to address them.To be honest, I am not willing to call names and throw allegations around. What I am here to do is to give you a brief of what WhiteBIT is, and confirm it by three easy examples.Firstly, allow me to briefly introduce you to our exchange. WhiteBIT was launched in 2018 by a team of entrepreneurs who have been working with cryptocurrencies for a long time, both in terms of business and development. The main idea behind creating an exchange was to offer a marketplace and a platform for trading amidst the tremulous market full of scams and uncertainties.
We are pledged to comply with laws and regulations and to deliver the best experience we can to our users, hence the motto 'White is Clear', where white is associated with trust and transparency.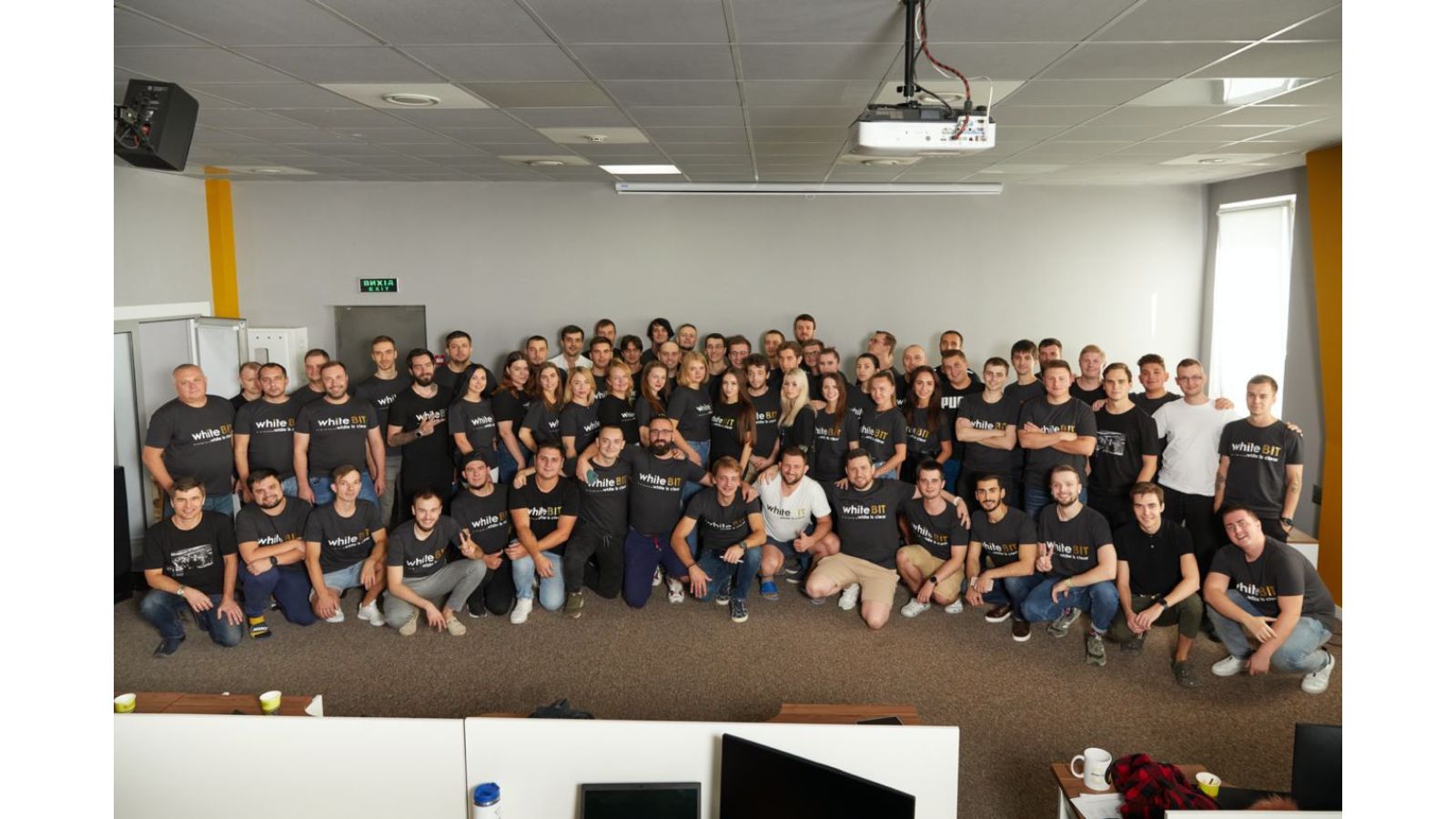 1. Currently, we are operating a team of over 100 people including developers, marketing specialists, analytics, and much much more - in fact, here's a photo we made just recently for a photoshoot (it doesn't feature 100% of the team as some are now working from home due to the tough coronavirus situation in our region).
(you can find me in the front row a bit to the right there haha)
I am proud to say that this 'proof of face', at least in my personal opinion, clearly shows that we are here to stay and to make this industry better. According to my information, a big number of exchanges are operated by a small team not more than ~30 people covering the minimal requirements to keep it viable. We, on the other hand, are planning to double our team within the next 6 months.
We are not afraid to tell about ourselves and our background. In fact, you can check our team on LinkedIn, including our CEO Vladimir Nosov and other members.
(quick question: how many real faces have you seen while dealing with other exchanges? I doubt that the number is very big)
A second noteworthy thing that I'd like to mention here would be what I call, in crypto terms, the 'proof of work'. Over the last couple of years we have released so many complex and high-quality products and features that it is even hard to list all of them:
- margin trading terminal (https://whitebit.com/trade-pro)
- p2p platform (https://whitebit.com/bitcoin-global)
- AML-checker (https://whitebit.com/aml-service)
- stop and conditional orders
- excellent mobile apps
- staking program, credited by the funds from Margin Trading (https://whitebit.com/smart-staking)
- DEMO tokens (https://whitebit.com/codes)
It should be taken into account that 100% of all these achievements were made possible ONLY due to the constant and hard work of our own in-house team. None of the products listed are ready-made solutions, white-labels or forks - they are completely our own in-house products. I believe everyone with any technical understanding is able to confirm this.
Moreover, it should also be stated that, to my knowledge, none of the above-mentioned features are available on any of the exchanges that are alleged to have an affiliation to WhiteBIT.
The partnerships we have achieved over this period are also many: Dash, Tron, Matic, Horizen are just a couple of big names that have openly announced their partnership with our exchange, releasing articles and educational materials, engaging into mutual campaigns and activities.
Just as one example, we are proud certified members of the Dash FastPass System (https://www.dash.org/fastpass/#partners), being one of just around a dozen exchanges chosen by Dash to have implemented the specific feature of its network.
From my perspective, there is really not much to add here.
One Reddit post can make up a mind of many people, but we are here to address your concerns. I know people tend to like to unite scattered non-evidence into conspiracy theories. That's not a bad trait if it helps you protect your funds!
That's why, I am not going to try to persuade you to 'give us all your money', nor will I give any financial advice, because I shouldn't.
What I wanted to achieve with this text is to encourage you to take a closer look at our exchange and give it a try. If you find it to your liking, you are very welcome to become members of our community.I hope you have found my logic reasonable.
Kilian (IDNI):
This is great to know, thank you Andrew! We certainly appreciate your transparency and willingness to step forward and explain your business in detail. I think it tells a lot about you and your business - also that all of you are willing to provide their identity information.
I also have to say that so far, as to my knowledge, all of our community members have had positive experiences using your platform.
Also, seeing other big names in crypto openly sharing their formed partnerships with you definitely is a great sign! :)Let's move to the second part now.The first two questions are by Surya:
1. How well are you prepared to tackle the hacking?
2. In the worst case scenario, how are you going to give back the tokens?
Andrew (Whitebit):
Thanks @manskoo, and thanks Surya for your question.
That's an actual one, given the recent KuCoin hack and other troubling things in our industry.
To prevent any significant loss in the result of a hacker attack, we heavily utilize cold wallet technologies. That's not a new thing in crypto of course, but what it does is actually makes sure that the amount of crypto and user funds that is located on hot wallets is just around 5-10%, whereas all the remaining funds are safely stored on the cold wallet.
That's why, even in case of an attack, the potential loss of user funds is very limited.
Because of that, I also see no problem to arrange the return of potentially stolen tokens to their holders. Thank God, we haven't had any instance where we had to actually take care of such a problem, but our financial department has instructions in place, and we're on a constant watch!
This question also ties well with the recent news: we were featured as top-20 exchanges in terms of cybersecurity by cer.live - you may find their name among the partners of CoinGecko and their famous Trust Score.
Kilian (IDNI):
Thanks Andrew! Great to know that you hold such a large percentage of the users' funds in cold storage.
The next question comes from Jamie:
"I notice your api indicates agoras volume is around 6920 but looking the order book its easily over 9000. Am I mistaken or is coin geckos api incorrect. Also 5 agoras for withdrawals is quite expensive for most. Could you perhaps do batch withdrawals or fast/slow option to reduce fees ? Thank you"
Andrew (Whitebit):
I hope I understood you correctly - the volume and the orderbook are not quite the same thing.
Also, CoinGecko does display the current data with a slight delayand thanks a lot for bringing up the withdrawal fee.
Usually we calculate it to be around $1 in equivalent. I'll make sure to pass this to the financial team and I believe we can decrease it as early as today - I'll make sure to come by and let you know once it's done.
Kilian (IDNI):
Wonderful, thank you Andrew!
Let's now move to part three of the AMA, where anyone may ask questions live - if there are even any questions left. Now is your chance to ask them.
I'll kick it off with one question: Is there a particular reason why you are incorporated in Estonia?
Andrew (Whitebit):
Yes guys, feel free to ask me anything. I have another AMA session planned in just around 30 minutes, so I might not respond right away. But in general, I'll stick around in this group and if you have something to ask - make sure to tag me here.
Estonia is just a country that has always been rather crypto friendly. At the same time, it is a part of the EU which means that we have to also comply with all regulations that it enties (and I'm talking mostly about the 5AMLD - a directive aimed at countering the money-laundering activities).
If I'm not mistaken, A LOT of companies connected to crypto are incorporated there as well.
Community:
Hi Andrew, Do you have any insurance in case of theft of tokens?
Andrew (Whitebit):
The quick answer would be: we do, but unfortunately I can't share any details on its amount and specifics.
Community:
How many people have access to the cold wallets?
Whitebit:
There are more than 20 cold wallets of different priority, but in general they function at a base of multi-signatures of 5 people.
Community:
What do you think is your added value compared to the dex?
Andrew (Whitebit):
I'd say that DEX and CEX are just two polarly different things. From my PoV, I'd say that a well-made CEX like WhiteBIT just offers more features and opportunities than a DEX. However, I'm gonna give you a quick sneek peek - very soon you may see a new DEX product from the our team.
Community:
Are there any plans to open up to US users?
Andrew (Whitebit):
It would indeed. We've been working with our legal team on obtaining the US MT license, but to be honest, the pandemic has spoiled these plans a little bit. It's still in the making though, just going to come at a bit of a later stage!
---